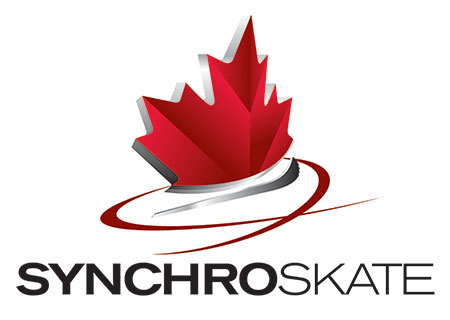 Quick Facts
Did you know...
You/your child can be enrolled in CanSkate Next Level or STARSkate as well as our SynchoSkate program?!
Classes:
Sunday
6:30 - 8:00
Cost:
$315 (Each skater is required to pay an annual Skate Canada fee in addition to the class prices as marked. 2019/2020 Skate Canada Fee is $43.65/year)

Dates:
October 6, 2019 - March 22, 2020
Synchronized Skating
Synchronized skating, or "synchro" is a specialized discipline of skating involving groups of eight or more skaters performing various group formations and maneuvers. The objective is for the team to perform as one unit executing circles, blocks, lines, wheels and intersections in unison to the music, while demonstrating quality edges, power and flow. Skate Canada's SynchroSkate program includes a number of Synchronized Skating categories which accommodate skaters at any age and skill level.
In Canada there is one event stream of Synchronized Skating and teams may register for the season in the following levels:
Beginner I

Beginner II

Elementary

Juvenile

Pre-Novice

Novice

Intermediate

Open

Junior

Senior

Adult I

Adult II

Adult III
Specific technical requirements have been determined for each level based on skill development and age restrictions. There are no test prerequisites to participate on any level of Synchro team.
Regional Synchronized Skating Championships
Regional Synchronized Skating Championships are held annually in five regions across the country. Each Region is made up of Sections specific to their geographical location. Manitoba is part of the Prairie Region, along with Saskatchewan. There is no qualification process to enter the Regional Synchronized Skating events; however, a qualification round may be held if the number of entries warrants it. Regional events are held in late January to early February of each year.
The Regional events provide a developmental and competitive experience for synchronized skating teams at all levels. The final result in each Region shall determine the teams eligible to enter the equivalent National qualifying competition at the Novice, Intermediate, Open, Junior and Senior levels.
Skate Canada Synchronized Skating Championships

Teams at the Novice, Intermediate, Open, Junior and Senior levels compete annually at the Skate Canada Synchronized Skating Championships. National Champions for this discipline of skater are declared at these Championships for all levels involved.
It is at these Championships that Senior teams are selected to represent Canada at the World Synchronized Skating Championships and various other international events. Also, following this national event, the Synchronized Skating National Team is selected.
The Junior teams for World Challenge Cup are selected earlier in the season at Winterfest, hosted by the Central Ontario Section. Also, following this event, the Junior National team is selected.
Adult Synchronized Skating
Skate Canada's SynchroSkate program offers adult skaters the opportunity to participate in the discipline as well. With three adult categories, skaters of all skill levels and experience may join a team and compete at various club, interclub, invitational and regional competitions.
Since the discipline of Synchronized Skating is included in the Skate Canada Adult Figure Skating Championships, adult teams also have the opportunity to compete at the national level at this invitational event.